The house of Shang has decided to introduce their youngest member into society, giving a grand ball in her honour, in order to find her a suitable husband. All nobility and royalty are hereby invited.
Name:
Railja Shang
Age:
18
Element(s):
Waterbending apprentice, almost a master
Rank:
Bender, Fire Nation Nobility
Picture: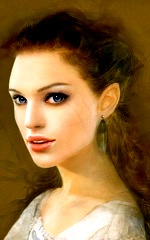 What/Why:
The other character should be from a noble home, possibly higher ranking than Railja, and someone her family, who has quite high standarts, might approve of enough to set her up with him.
She is to be married to bring honour, increased wealth and preferably also more influence and power to her family, so she won't be given away under worth.
Gender of Character:
male
Gender of User:
don't care
Dowry:
A dowry of two chests filled with silver coins

political connections to the noble Shang family, and all their associates

a beautiful, dedicated, loving and still very young wife, who is a skilled musician and handworker (stitching)
Personality:
Despite her appearance and her uppbringing, Railja has secretly developed a very strong personality. Being the nestling did not quite pay off for her. She has strong bonds to her elder siblings, mainly to Rozan, who comes nearest to her age and is a constant troublemaker. All of her siblings, apart from Terzan, have already left the house, and she lost her father at a very young age - just old enough that he could be her hero and that she could perfectly well understand what loss she had just experienced.
This constant leaving and the feeling of being left behind shows in her personality. Railja tends to be overly sensitive when it comes to promises people don't keep, and she sometimes seems to be hungry for more attention, not from her mother - whom she actually tries to get away from - but from her siblings, especially from Rozan.
With her sister Katena, who has married a firelord nobleman and lives nearby, coming to dinner more often than the other siblings and bringing her husband with her, Railja has a rather tense relationship. Also her brother Terzan, head of the household since her father passed away, has had to deal with her puberty outbreaks as he tried to be more of a father than a brother to her. She often opposes his authority, but in secret she also admires him and has a deep sensed respect for his way to fullfill his duties. Since he started trying to marry her off, though, she got more rebellious, and it is only a matter of time before she loses her temper and gets over to open revolt.
Apart from that, she is a sunny, happy, but rather calm character. She tends to blabber when she is happy or excited, but she can also sit perfectly calm, and soothe her elder brother Rozan's ill temper, turn a smile onto her sister Katena's face, or make even the severe, over-worked Terzan laugh aloud and finally get off to bed.
Brief Bio:
Railja was born during a winter holiday in the family Shang's house on Ember Island in the night after the winter solstice - the longest night of the year.
Her father was a nobleman from the firenation, who had married her mother, a southern water tribe nobleman's daughter, because of an arranged marriage. Railja is the youngest of her siblings by far, her next elder brother Rozan being six years older than her.
Since her mother was not the youngest any more and had already given birth to six children, the eldest one being 17 when she got Railja and Razon having been born by caeserian cut six years before, it was a pretty risky birth. Railja lay transversely, something that had not been noticed before because she was so extremely small. When she was finally turned and got out, she was completely blue, and would not start breathing for several long, painfull (for her mother) seconds. Then she finally made a sound, but she did not scream like most babies, just cried silently and whined a little.
Although the midwife prophecied she would always be sick, she was a very healthy child - just extremely small, with low appetite, refusing to grow to the normal height of children her age.
Because of that, she was always overly well protected by her parents, held inside when other children played outisde, and carefully attended on. Their worries never stopped, no matter how healthy she was and how old she grew. When she was discovered to be a bender, her mother got even more worried, allowing her the same teacher her brother Nuran had had to instruct him, but only allowing him to teach her the basics also.
And so she grew up, unspectaculary learning her way in society under the protective wings of her parents, and, after her father's death, with her elder brother Terzan as her guardian. It was soon decided that she, like her elder sisters, was to be married in order to bring more wealth and honour to her family, while her brothers tried to get as politically important positions in the Fire Nation State as possible.
((See also the link to Railja and her brother Rozan underneath and the topic *The new recruit* - Fire Nation Capitol in order to find out more about her and her family.))