Name:
Abezethibou
Nickname:
Dzoavits aka Samual never calls him by a nickname since his friend never approves of such human nicknames.
Age:
He is one of the very first large Wurm species on the planet.
Species:
Wurm, the very first of their kind.
Appearance: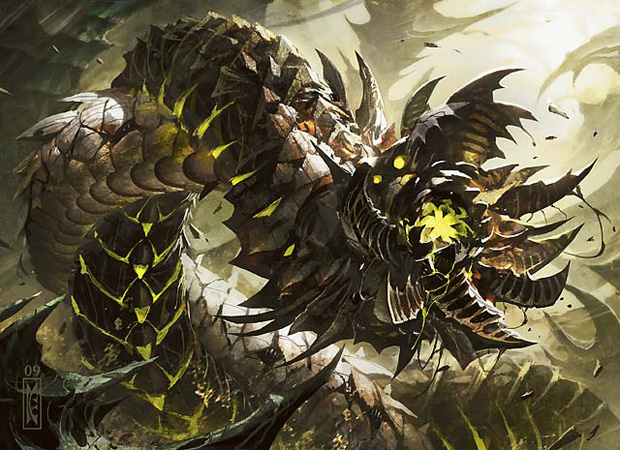 Personality:
It is one of the very first of its kind. It has been around the first wars of mankind. He is very personal with his opinions about humans. He normally keeps to himself as hsi distaste for humans knows no bounds. When his kind began to populate the planet, they were hunted.
Background:
He was the very first of his kind. Not considered a spirit since he has no connections to the other realm. Yet his intelligence rivals the spirits themselves. With being in solitude he was able to study and learn about the humans. With the years that had gone he had grown to a large scale and he has to stay underground to even hide himself from the humans and avoid an all out conflict.
Until he had felt fluctuations of energy coming from the ground above him. With his knowledge of bending and the new elements that began to pop up over the years, he knew it was a spirit bended.
One day he felt the amount of energy seeming to call to him. Interested in such a being able to call to him he appeared before him. The large Wurm emerged from the ground causing an earthquake when he came forthwith from the ground. He met Samual AKA Dzoavits.
The wurm could see the energy flowing from the man and the potential in him. The Wurm so interested in him wanted to know more about him. This then broke into a large conversation between the two. Samual had learned that his spirit bending could call out to ancient Wurms and summon them for wisdom. Though the Wurm could not help him at all with his bending, he did learn about the history of Wurms and the difference between their cousins the Worms.
Wurms are the earliest branch of large creatures very similar to Dragons, even slightly related. They can not fly but they can dig into the planet and create caverns or large underground lakes that had formed on the planet.