takeda had left home about 2 months ago, after his nephew ran away. he had managed to make it to the capital city before he ran out of money. luckily he met up with a troupe. unluckily the troupe was a mercenary groupe on the side. he became a killer to survive. he would take jobs that would allow him an excape. he couldn't run. not with his leg messed up. then he recieved a letter.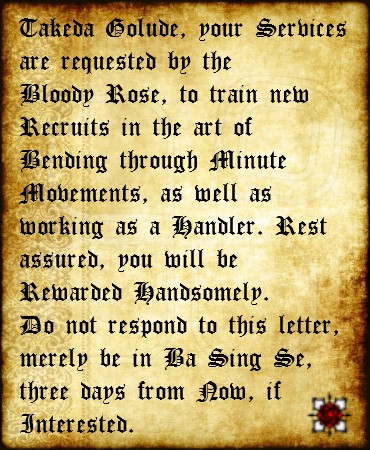 it seemed like easy work. hopefully the killing could stop. he was tired of death. he lost good friends to cruelty.
luckely the troupe had been working their way to ba sing se. they had been 2 days away when he had recieved the letter. the moment they reached the city he took off towards the cental ring. unfortunately he had no idea where to go. he had a day left so he decided to take what little money he had and buy a room for the night. he would search in the morning. after his room was secured he went to a nearby tea house. when he walked in he was a little self-conscious. while he wasn't in rags, the plain outfit of black wool stood out in the finery of the middle ring. he sat down anyway and leaned his worn ash cane against the table. he then ordered jasmine tea and sat back to enjoy himself.
_________________
New Cannon
Old Cannon
—————————————————————————
Mother is the name for God on the lips and hearts of all children.
—————————————————————————
Suddenly I heard a tapping, as of someone gently rapping, rapping at my chamber door.
—————————————————————————
When you hit rock bottom, be an optimist. Those rocks on the bottom help you push yourself back up.
—————————————————————————
You keep what you kill.
—————————————————————————
Family don't end in blood, boy.
—————————————————————————