Name: Roi
Age: 17
Birthplace: South Pole
Current Residence: Southern Air Temple - Travels
Rank: Bender
Occupation: Nomad
Element: Water
|PETS/MOUNTS|
Keeps a Lion-Dog with him at all times; childhood pet, one of only three in the Southern Air Temple, though they are native from the deserts of Earth Kingdom territory.
Name: Ma Cho
Age: 9
Personality: Terribly friendly; sometimes too friendly. Roi doesn't keep him as a guard - most of the time, it's Roi protecting MaCho
Brief History:
They met when Roi was on a lone walk into the woods; just 10 years old when the Lion-Dog came pouncing up to him, willful to play. Roi was close to leaving before the dog barked an obscenely loud roar and caused the Earth to quake. Since then, Roi has taken fondly to the animal, and treats it like a domesticated dog, but nonetheless his only family.
|APPEARANCE|
Hair:
⦁ Black, wavy (unruly type)
⦁ Undershave, allows the top layer of his hair to grow, but not long passed his ears.
Eyes: A Nordic shape to his eyes where they incline at the corners and show little to no expression; though they show skepticism. Not dark, but not light. Medium brown.
Height: 5'6
Clothes: Scraps. Ever since he left the temple, he's ditched the robes but kept the loose pants. He cut his plain white-T out of a pillow case and stitched it together with his own hair.
Skin: Tanned, but Caucasian.
Body Type: Don't underestimate his slim build; his scrawny body gives him the leverage an air-nomad water-bender needs. Being lithe paired with being strategic can outmatch any number of hard-head weight-lifters.
Image: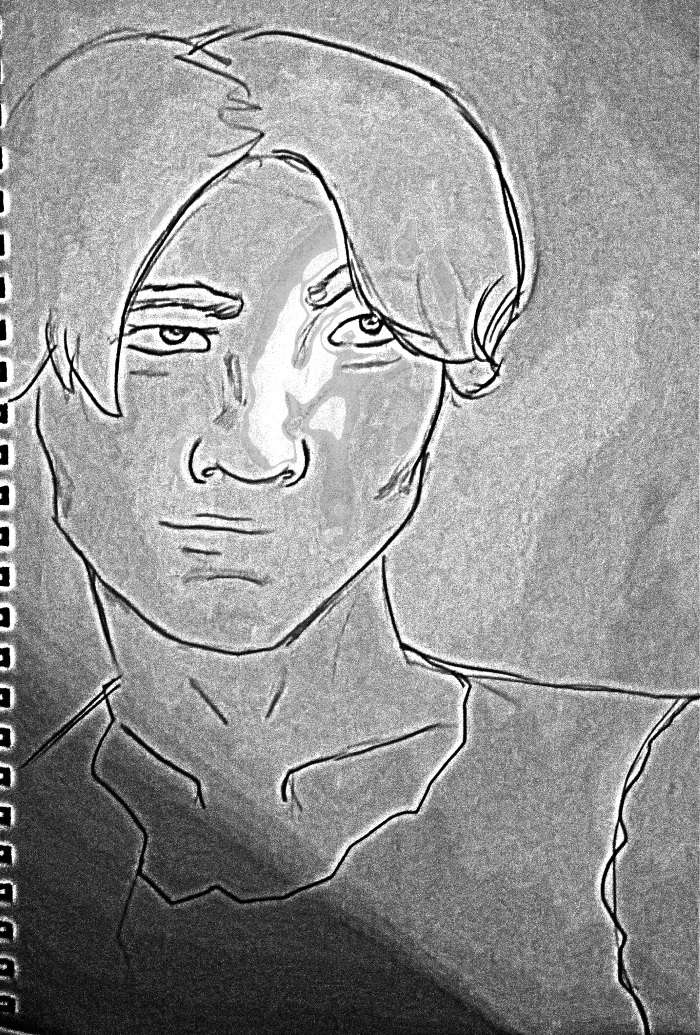 |CHARACTERISTICS|
Personality: Inconsiderate, but compassionate and understanding. Rebellious and questioning of authority. Very open-minded - so much that his brain could fall out.
Personal Strengths:
⦁ Going long whiles without food
⦁ Self-taught water-bending amidst air-benders, so he has his own techniques and style.
⦁ Limitless - or at least, he thinks he is.
Personal Weaknesses:
⦁ Remember that idea that he's limitless? Sometimes, that's his utmost downfall. He'll squeeze every bit of energy till he's dead. Some enemies can use this to their own benefit.
⦁ Distractions. He isn't the best at multi-tasking. It's difficult for him to fend off multiple people at the same time (as long as they're all masters at what they do. If just normal benders, he won't have a hard time).
⦁ Does not take advantage. He will not take a life - sometimes, even if it means his own.
Hamartia: Attachment - Those he loves. His arch nemesis would take that to their advantage and harm anyone he loves. This is why he keeps his distance from people.
Personal Hero: (Open to debate)
Dreams and Ambitions: He's always dreamt of building his own city; where his Lion-Dog could find a mate and where Roi, himself, can abide by his OWN rules.
Likes:
⦁ Mountain-tops or overall high-altitude places where he can practice his breathing and alternative ways to water-bend.
⦁ Cooking. Not to eat, but to just cook.
⦁ Tea & cookies. Lots of cookies.
Dislikes:
⦁ The Fire Nation; according to its history.
⦁ Technology
⦁ Ships (Ironically, it makes him sick), but he does fine if in a canoe or the like.
Brief History:
Whoever beared him abandoned him at the Southern Air Temple when he was just an infant. The people took him in, nurtured him, and many loved ones resulted from this, but it was never the same. Roi had many peers he looked up to, and both women and men that loved him, but he never felt fulfilled. What he considered to be his only friends were animals, and specifically MaCho - since they'd met when he was a child, and the Lion-Dog was a mere year-old orphan. Roi fled in secret when he turned 17 years old, and MaCho wasn't at all hesitant to follow along.